Two Dining Experiences. Same Great Food.
Set snug in a two-story blue hued building adorned with old Danish Brick, and adjacent to historic Fort Christiansvaern, Savant offers two unique dining situations. The front of the house is an air-conditioned, cozy New York-style room. Intimate and inviting, sophisticated and elegant, yet remaining artistic and fun. The Courtyard has a romantic, Old World feel with carved cement walls and candlelit niches. The Courtyard was created by Tom's wife, Kate (Bartoldus) Miller, who has a degree in sculpture as well as an extensive background in fabrication and film. The bar is backed by a 350-year-old above ground cistern.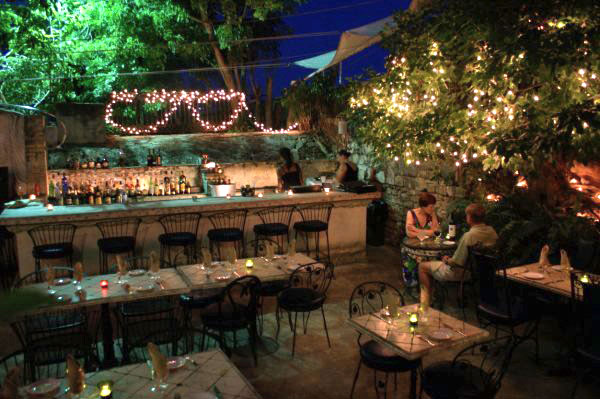 The interior of the air-conditioned bistro is accented by framed black and white celebrity pictures taken by famed photographer Christoph von Hohenberg a close friend of owner Tom Miller's who grew up on St Croix. As a ritual Christoph shoots a new staff picture each year. You'll find them hanging throughout the restaurant. The eclectic decor details are inspired by the building's Danish architecture and bring together the sophisticated side of savant.

A young Tim Robbins shot by Christoph von Hohenberg.
Tim shot scenes from "The Shawshank Redemption" on St Croix

A special sail from a 70′ sailboat, was fabricated on a roller furling that slides sideways to protect from rain or rolled back to view the stars. It all comes together to create a setting unique and as inspired as Savant's cuisine.

The space is built into the foundation of an old building with the booths, bar, and walls custom sculpted by Tom's wife, Kate. The atmosphere is sophisticated and sexy set with just the perfect lighting to set the mood.