Savant's menu is eclectic with iconic house favorites like the char-grilled baby calamari, the portobello and goat cheese Stuffed Filet and our Bacon Wrapped Double Cut Pork Chop.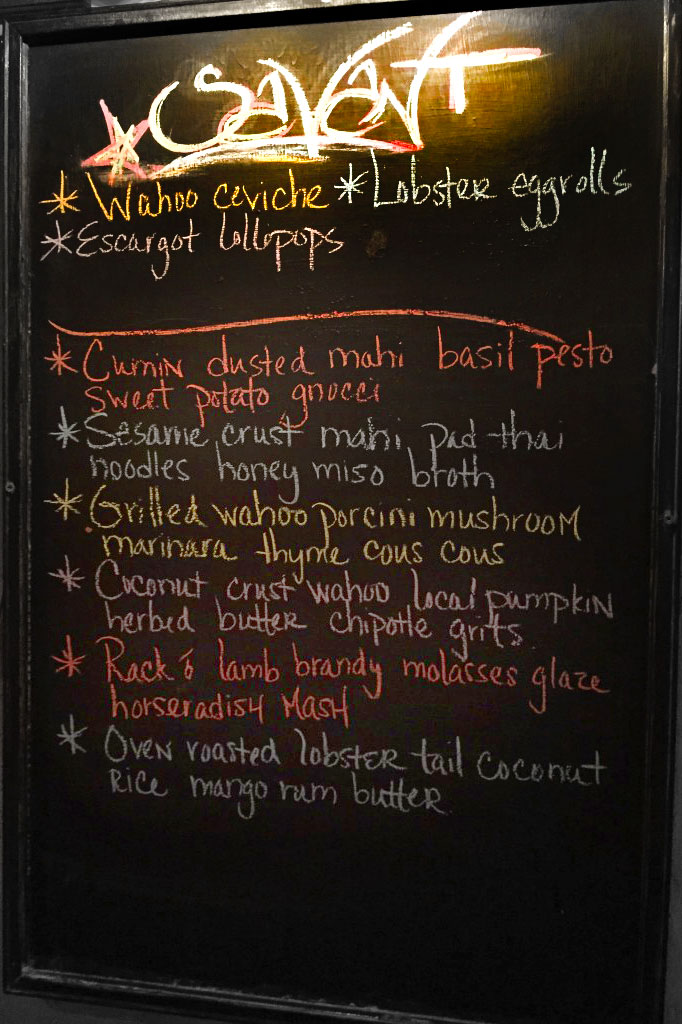 We buy fresh fish and lobster daily off the boats from the local fishermen. The fresh fish has three preparations on the menu and is incorporated with our daily specials.
We focus on farm-to-table incorporating local produce from island farmers–spicy mixed greens, tomatoes, cucumbers, edible flowers, and herbs all combine to create healthy, fresh and delectable dishes.
Owner, Tom Miller encourages his kitchen to be creative with the nightly specials board. Chef Troy Corbett and his team crank out zesty, creative cuisine on a nightly basis.
The wine list is as eclectic as the menu. For wine enthusiasts, be sure to check out our "Precious and Few" list of highly allocated wines that you may not find anywhere else in the world. Savant also has two fully stocked bars with a signature craft cocktail list.
🌠 Denotes Spicy Dish!
Appetizers
House Made Gnocchi or Ravioli of the Day Mp
Winter Mixed Green Salad 13.
With Butternut Squash, Candied Mixed Nuts, Manchego Cheese and a Jalapeño-Cranberry Vinaigrette.
Grilled Caesar 10.
Grilled Romaine Lettuce, Crispy Fried Croutons and Parmesan Cheese with a Classic Caesar Dressing.
Add Grilled Chicken 8.
Add Fresh Fish 15.
Add Grilled Shrimp 12.
Shrimp Pot Stickers 16.
A Chinese Take-out Classic. Wasabi Aioli and Sweet Soy glaze.
Egg Roll – Chef's Choice Mp
A Guest Favorite, Wonton Wrapped and Fried with Local Vegetables and Herbs. Served with Sweet Thai Chili Dipping Sauce.
Chargrilled Baby Calamari 14.
Served with House Greens with Roasted Garlic Aioli.
Daily Crudo Mp
Selection of Fresh Local Fish prepared with Poke style or Ceviche. Served with crispy accompaniments.
🌠 Chicken Lollipops 12.
Pulled Chicken Breast and Gorgonzola Cream, Wrapped in Crispy Wontons. Served with a Spicy House Made Ranch Dressing.
Entrees
Fresh Ramen Bowl 25.
Fresh Ramen Noodles with Savory Broth, Boiled Egg and Grilled Vegetables.
Add Fresh Fish 15.
Add Chicken 8.
Add Grilled Shrimp 12.
Stuffed Filet Mignon 43.
Tender Filet Stuffed with Goat Cheese and Portobello Mushrooms. Served with Mashed Potatoes and Jack Daniels Oyster Cream Sauce with Grilled Asparagus.
Cochinita Pibil 29.
A Yucatan Pork Shoulder Roasted in Banana Leaves, Seasoned with Achiote, Garlic, Cumin and Served with Rice and Spinach.
Half Duck Two Ways 35.
Smoked and Grilled Breast and Confit Duck Leg with Walnut Wild Rice Waffle, Onion Chutney and a Blood Orange Marmalade.
Grilled Fresh Local Fish of the Day 32.
Served with Lemon Almond butter, Spicy Broccoli and Herbed Rice.
Blackened Shrimp and Grits 29.
Parmesan Grits, Caramelized Onions and a Lemon Thyme Andouille Cream.
Bacon-Wrapped Double Cut Pork Chop 38.
Apple Cherry Compote with Sweet Potato Purée. Served with Apple Brussels Sprouts.
The Harvest Plate 28.
A Global Look at Vegetarian Selections. Always Vegan.
Add Seared Fish 15.
Add Chicken 8.
Add Grilled Shrimp 12.
Teriyaki Glazed Beef Short Ribs 38.
With Wasabi-Ginger Mashed Potatoes, Stir Fry Vegetables and Spicy Aioli.
Any Dish May Be Ordered to Your Preference for Spiciness. Some like it Hot. Some Not.
All Fish & Produce from Local Fishermen & Farmers Whenever Possible!
Extra Bread 3.00
Sharing Charge for Entrees 5.00/plate
In Order to Best Serve You, a Reservation Is Greatly Appreciated.
20% Gratuity Added for Parties of 6 or More.