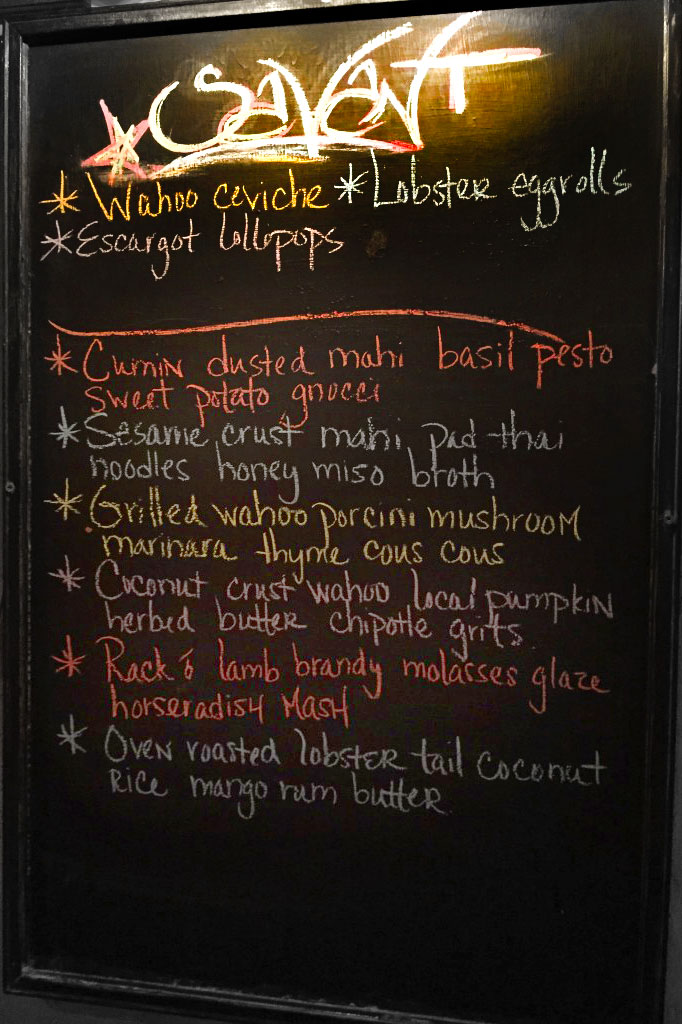 Savant's menu is eclectic with iconic house favorites like the char-grilled baby calamari, the portobello and goat cheese stuffed filet, Blackstrap Rum and Rootbeer Danish baby-back ribs and our Bacon Wrapped Double Cut Pork Chop. We buy fresh fish and lobster daily off the boats from the local fishermen. The fresh fish has three preparations on the menu, is incorporated with curries, enchiladas, fajitas and with our daily specials. We focus on farm-to-table incorporating  local produce from island farmers–spicy mixed greens, tomatoes, cucumbers, edible flowers, and herbs all combine to create healthy, fresh and delectable dishes. 
Owner, Tom Miller encourages his kitchen to be creative with the nightly specials board. Chef Eric Nielson and his team crank out zesty, creative cuisine on a nightly basis.
The wine list is as eclectic as the menu. For wine enthusiasts be sure to check out our "Precious and Few" list of highly allocated wines that you may not find anywhere else in the world. Savant also has two fully stocked bars with a signature craft cocktail list.
∗ Denotes Spicy Dish!
Savant House Salad $9

Seasonal Greens, with Fresh Cucumbers, and Tomatoes, Tossed in Lemon Vinaigrette.

---

Asian Caesar $9

Grilled Romaine Lettuce, Crispy Fried Wontons and Parmesan Cheese with a Miso Sesame Caesar Dressing.

Add Grilled Chicken $7 | Add Grilled Shrimp $10

---

Spinich Salad $15

Fresh Spinach Served with Toasted Pecans, Roasted Beets, Tomatoes, Cucumbers & Goat Cheese with a Warm Bacom Vinaigrette.

---

Fish Tacos $14

Two Soft Taco's with Blackened Fresh Fish and a Grilled Pineapple Slaw.

---

Local Heirloom Tomato Salad $16

Art Farm Heirloom Tomatoes with Creamy Burrata Cheese, Local Basil Pesto and Balsamic Reduction.

---

Beer Battered Fish Fritters $14

Served with Chipotle Aioli, and a small Salad.

---

Egg Roll – Chef's Choice MP

A Savant Classic, Wonton Wrapped and Fried with Local Vegetables and Herbs. Served with Sweet Chili Dipping Sauce.

---

Chargrilled Baby Calamari $13

Served with House Greens with Roasted Garlic Lime Aioli

---

Daily Ceviche MP

Citrus Marinated Seafood, with Fresh Herbs, Fruits, and Vegetables. Served with Yucca Chips.

---

∗ Chicken Lollipops $10

Pulled Chicken Breast and Gorgonzola Cream, Wrapped in a Crispy Wonton. Served with a Spicy House Made Ranch Dressing.

---

Togarashi Tuna $16

Spicy Sesame Seared Grade A Tuna with Ponzu and Wasabi Mayo

Grilled Scottish Salmon $36

Red Beet Risotto and Roasted Cauliflower with a Brown Butter Beure Blanc and Fried Capers

---

Stuffed Filet Mignon $39

Tender Filet Stuffed with Goat Cheese and Portobello Mushrooms. Served with Mashed Potatoes with Jack Daniels Oyster Cream Sauce and Grilled Asparagus.

---

Sejah Farms Local Goat Curry $25

A Caribbean Staple Done Right. Local Goat Without the Bones, but with All the Flavor.

---

A Half Duck $36

Seared Breast and Confit Leg with Wild Rice Pilaf and Roasted Brussels Sprouts, and Pan Sauce.

---

Belly Burger $22

Fried Slab of Beer-braised Pork Belly on 8oz Pork and Angus Patty. Served on a Brioche Bun with House Made Pickles, Dijonnaise, Swiss Cheese, Local Greens and Pomme Frites.

---

Bucatini All' Amatriciana $28

Hollow Spaghetti-like Pasta with a Rich, Savory Tomato Sauce made with Guanciale (a Cured Pork Cheek). Garnished with Basil Pesto and Pecorino Cheese.

---

Grilled Local Fish of the Day $27

With a Grilled Pineapple Slaw. Served over our Buttery Basmati Rice and Grilled Asparagus.

Seared Jumbo Diver Scallops $35

Served over Sweet Potato Puree, Braised Red Quinoa, Sauteed Swiss Chard and a Maple Beurre Blanc.

---

Bacon Wrapped Double Cut Pork Chop $29

Apple Bourbon Glaze with Roasted Garlic and Manchego Cheese Grits. Served with Bacon Brussels Sprouts.

---

Danish Baby Back Ribs $28

Slow Roasted with Cruzan Rum & Coke. Served with Pomme Frites & Roasted Cauliflower.

---

 Local Rabbit and Lobster Cassoulet $38

Sejah Farm Rabbit and Fresh Caught Lobster with Braised Flageolet Beans and Cremini Mushrooms. Slow Roasted and Baked with Sauteed Greens.

---

The Harvest Plate $24

A Vegetarian's Dream. Local Vegetables of the Day with Sweet Potato Puree and Toasted Quinoa.